UPDATE FOR 2020: This year we will be having a virtual Skill Swap. When: Saturday and Sunday June 13-14th, 2020! There is no cost to attend! Please visit our Facebook page and join our mailing list for the most up-to-date information.
Schedule and Workshop Descriptions for vESS: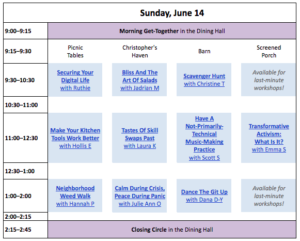 Saturday
Urban Gardening
with Jane D (Sat 2–3 at the Picnic Tables)
In this workshop, people will learn how to grow food in their backyard.
Description: Want to turn your backyard into your pantry? I've been organic gardening for over 40 years — in the country, but also in 3 city backyards. You can grow a lot of food in a small space! I was able to grow most of my veggies, fruits and herbs in my 3 city backyards. Come with specific questions about your space, and I'll be happy to answer them to get you started.
Target Age: Adults
Required Materials: None
Edit Your Own Videos
with Heather H (Sat 2–3 in Christopher's Haven)
In this workshop, people will learn how to use WeVideo to create/edit their own videos.
Description: I'll teach you how to use WeVideo, a simple video editing software, to create your own videos. Being able to create videos has been an essential tool in my tooblox as a public school teacher during the last 2 months of distance learning. I imagine you could use it for all sorts of artistic endeavors as well!

Here's an example video that shows one way of interfacing some text, some music, some screen sharing, some web cam, etc. I made it to share with my students when quarantine started.

I've used this software with students as young as 11 years old—so tech-savvy kids are welcome to join this workshop as well!
Target Age: Adults
Required Materials: To make things smooth in the real workshop time, sign yourself up for a free account BEFORE Skill Swap Weekend!
Dance the Shim Sham
with Krissy T (Sat 2–3 in the Barn)
In this workshop, people will learn how to dance the shim sham!
Description: The closest thing swing dancers have to a line dance, the shim sham is often done in the middle of a swing dance while the band is on break. As a solo jazz routine that is usually done communally, it's a great way to feel the shared-ness of dance without having to be physically close together. Come get moving and learn it! If you want a sneak peek, here's a video of the dance.

(Please note, though it originated as a tap routine, I will be teaching the variation I learned from swing dancing. No tap shoes required!)
Target Age: All Ages
Required Materials: I suggest that you wear comfortable clothes to move in.
How To Make Things Up
with Eliza W (Sat 3:30–5 at the Picnic Tables)
In this workshop, people will learn how to make up jokes, silly stories, and fantastical ideas.
Description: Puns, terrible jokes, silly ideas for bad movie plots, stories about what you did on Friday night that are more exciting than "petted my dog for an hour and went to bed early," totally disgusting foods that you describe to your friends but which no one in their right mind would ever actually cook – These are the ridiculous things which your imagination has the potential to create for your own – and others' – amusement. Come to this workshop to let your imagination run wild! We'll think about how to make your mind a sillier place, and practice being funny, ridiculous, and fantastical. We might also go deep, and have a conversation about the power of imagining, and some more serious (but not too serious) reasons you should get better at making things up.

Note: This workshop is a little bit improv, a little bit bullsh*t, and a lot of fun! Please bring your laughing pants.
Target Age: All Ages
Required Materials: SILLY HATS! (not required, just fun.) Please also feel free to bring a favorite joke, pun, or thing you recently thought of that is just plain silly.
Cooking a Vegetarian Indian Dish
with Avi R (Sat 3:30–5 in Christopher's Haven)
In this workshop, people will learn how to cook Chana Masala.
Description: In this workshop, we will learn how to cook a healthy vegetarian dish called 'Chana Masala' i.e., Spiced Chickpeas. All you need are a few locally available ingredients (list will be provided beforehand). This dish is often a party favorite.
Target Age:
Required Materials: Ingredients (TBA), a pot, cutting board.
Indoor Fort Making
with Elizabeth Y (Sat 3:30–5 in the Barn)
In this workshop, people will learn how to build an indoor fort.
Description: This workshop is in three half-hour parts: an introduction to fort making, then time to make a fort, and then an open house – show us all what you created!

During the discussion, we will look at concepts, core materials and finding inspiration for making a fort inside of your home. There are many different types of forts, and each has pro's and con's regarding durability, safety, light and space. Are you building for a slumber party? Creating a maze for a child, or perhaps a cardboard box castle? When does turning over a couch make sense, or not make sense for that matter? What safety considerations, policies and procedures do you and your friends want to put in place with the creation of your new tiny house? ; )
Target Age: All Ages
Required Materials: Fort making materials (optional)
Podcasting Q+A
with Julie V (Sat 3:30–5 in the Screened Porch)
In this workshop, people will learn how to start a podcast.
Description: Julie will share what she has learned so far as a podcaster. It will be an informal conversation with plenty of time for questions and answers. We can talk about nuts and bolts like podcast hosting and making a website, making a logo for your podcast, microphone choices, recording at home, interviewing, planning podcast themes, copyright, pacing an episode, etc. And whatever questions you bring!
Target Age: 15+
Required Materials: No required materials, except a computer and a phone with podcasts apps is helpful.
Learn to Meditate
with Ben W (Sat 5:30–6:30 at the Picnic Tables)
In this workshop, people will learn how to meditate.
Description: Learn the basics of meditation! A time-tested tool for strengthening our minds to make them more flexible and useful to us so we can stop fixating on things that aren't helpful, and more fully enjoy the moments of peace and happiness in our lives, among other things. We'll work with a simple Tibetan Buddhist method, and if there's time and interest we can get into some Buddhist thought, or talk about how to incorporate regular practice into your life!

If people are interested in one-on-one sessions to talk more in-depth about meditation, Buddhism, their personal practice, or whatever, I'm open to that as well!
Target Age: All Ages
Required Materials: None
Fixing the Food System
with Sonja B (Sat 5:30–6:30 in Christopher's)
In this workshop, people will learn how to work toward food systems transformation.
Description: The COVID pandemic is making the cracks in our modern food system painfully apparent. In the US, the cheap and unhealthy foods we consume make us sick, while the system that produces them exploits workers and degrades our environment. Up to 40% of food produced and shipped in this county goes to waste, while globally an estimated 10% of people suffer from chronic undernourishment.

We can do better. I've spent years dreaming of a just and sustainable food system, and I'm sure many of you have as well. Come to this workshop to engage in a structured conversation about the food system we have now, the one we would like to build, and how to get from here to there.
Target Age: All Ages
Required Materials: None
Hamilton Singalong
with Annie W (Sat 5:30–6:30 in the Barn)
In this workshop, people will learn how to run an online singalong.
Description: I have been longing to have a Hamilton singalong for a long time. Seems to me there are many challenges in doing it online, but I am hoping I can figure them out by the time we have this workshop! So, during the workshop, we'll talk about the things that go into doing an online singalong sort of thing for maybe 10 minutes, and folks can (hopefully if I figure it all out) sing one of their favorite songs from the show for us to all sing along with! There will probably be some setup sorts of things to make this work, but since I haven't figured them out yet, come with some flexibility and a desire to learn some things about settings in zoom to make things sound better.

Anyone is welcome to come to this workshop if they like the show, or even if they don't know it and want to learn some things about it. If you live in a pod with folks who also like to sing, you could even do some of the songs that have more banter or back and forth or harmonies!

Remember, you don't need to be an expert to teach at Skill Swap, you just need to want to try!
Target Age: All Ages
Required Materials: Lyrics to your favorite Hamilton songs, and a singalong track that works for you – could be all instrumental if you're up for that, but also can totally just be the all cast recording. PLUS a separate device to play that music, different from the one you're using for the Zoom call.
Sunday
Securing Your Digital Life
with Ruthie (Sun 9:30–10:30 at Picnic Tables)
In this workshop, people will learn how to make your online accounts very difficult to break into.
Description: Ever get spam messages from the email accounts of family or friends? Heard horror stories about other people posting as you on facebook? Do you have something specific you want to keep secure online? Learn how scammers and hackers log into other peoples' accounts, and make sure that those accounts aren't yours.

Bring a smartphone and optionally a laptop if you want to set up new security policies on the spot, or come watch a demo and go home with a list of tools and instructions to use at home.
Target Age: All Ages
Required Materials: None
Bliss & the Art of Salads
with Jadrian M (Sun 9:30–10:30 in Christopher's)
In this workshop, people will learn how to express creativity, and eat well, through designing improvised salad "recipes".
Description: I love making salads! I love getting philosophical about making salads! I love figuring out halfway through the process of making my salad exactly what salad it is that I'm making! And gosh darn it, I love eating salads!

This workshop is about exploring the design space of salads, freeing yourself to be creative and inventive in making salads with whatever you have on hand, and embracing the bliss of never eating the same salad twice. We'll talk about the various salads we've eaten before, their commonalities and differences, and the basic principles that underlie them. Then we'll each invent a new salad and eat it! Hooray!
Target Age: Kids 5–10 years old (plus anyone older if they feel like it)
Required Materials:
Equipment: a cutting board, a decent chopping knife, a really big salad bowl or mixing bowl, a peanut-butter or jelly jar (for mixing your dressing).
Ingredients: at least two items from each of these categories (leftovers are welcome!):
OIL (olive, sesame, vegetable…)
ACID (apple cider vinegar, white wine vinegar, fresh lemons or limes…)
LEAVES (spinach, baby salad greens, kale, cabbage, fresh cilantro, fresh parsley…)
GOOP (dijon mustard, blueberry jam, honey, mayonnaise, tahini…)
YUMS (herbs & spices; e.g. dried oregano, fresh sage, poppyseeds, whole coriander…)
WET CHONKS (carrots, pears, apples, grapes, celery, raisins, canned black beans, hard-boiled eggs, boiled potatoes, green peas, roasted veggies, strawberries, cherries, grapefruit, frozen corn…)
DRY CHONKS (pecans, almonds, pumpkin seeds, toasted soybeans, cheese, croutons…)
PEPPER (fresh-ground black pepper, or white pepper if you like that junk)
Scavenger Hunt
with Christine T (Sun 9:30–10:30 in the Barn)
Description: You'll get the list at the start and then we'll all meet up at the end and see what we found!
Target Age: All Ages
Required Materials: None
Make Your Kitchen Tools Work Better
with Hollis E (Sun 11–12:30 at the Picnic Tables)
In this workshop, people will learn how to sharpen kitchen knives using mugs and belts.
Description: Your kitchen has things with sharp edges. If you aren't maintaining them actively, they're probably dull. Dull tools require more effort for the same cuts and are often unsafe. Want to fix 'em? It's easy. You probably already have the tools you need.

You'll need a tool with a dull edge (usually knives or scissors), a factory-made ceramic mug with a smooth unglazed base (or ring around the base), a Sharpie, and some paper. Bonus points if you have a protractor and some cardboard, a leather belt, a "sharpening" steel, etc.

I've taught basic sharpening a bunch of times at ESS, and several people have recently reached out asking me to teach it again. Seems like a lot of folks are spending more time in their kitchens than they used to, thanks to COVID-19, and it might be a good time to make sure your tools are sharp, safe, and ready to go.

There are some ways in which this might actually be easier to teach at ESS_remote than at ESS_Wilmot, since people will be at home with their knives, etc., and can also point the camera directly at what they're doing.

This workshop is based on the premise that, although sharpening tools really well relies on precision surfaces and abrasives, often uses custom-built jigs and fixtures, and demands rigid adherence to grit-staging, "good enough" sharpening is often a HUGE improvement over the default state of edged tools, and that good-enough sharpening rests on a foundation of use-whatcha-got and can-do mindset and aims for "better" rather than "perfect". This is a great approach if you're wanting to sharpen your chef's knife; less good if you're wanting to sharpen your scalpel, straight razor, or bagpipe reedmaking gouge.
Target Age: All Ages
Required Materials:
Dull knife
Factory-made mug with smooth unglazed ceramic on the base
Sharpie marker
Protractor
Cardboard
Paper
Leather belt
Resilience of spirit
Tastes of Skill Swaps Past
with Laura K (Sun 11–12:30 in Christopher's)
In this workshop, people will learn how to make rice salad.
Description: As requested, I will attempt to teach folks how to make the sesame rice salad with tofu and greens that has appeared on at least one past Skill Swap menu. Have I ever made it for <90 people? No! Has a recipe ever existed in written form for this dish? Also no! Do I know how everyone on the NYT cooking/Bon Appetit/King Arthur instagrams are making their cooking demos look so good, and/or do I have their videography capabilities? Definitely not! Like Annie, I'm not sure if I can really do this, but I'm willing to try.
Target Age: Adults
Required Materials:
INGREDIENTS: rice, tofu, cooking greens, mushrooms (optional), onions (optional), garlic, ginger, soy sauce, sesame oil, vinegar/citrus, sweetener (optional).
EQUIPMENT: 2 burners (or 1 burner + rice cooker), cutting surface, sharp non-serrated knife, pot, frying pan, jar, 2 containers, heatproof spatula.
Have A Not-Primarily-Technical Music-Making Practice
with Scott S (Sun 11–12:30 in the Barn)
In this workshop, people will learn how to record without judgement, listen with ambition, re-record with hope.
Description: Kurt Vonnegut advised attendees of a class to go home and write a poem and fold it up and carry it in their pockets for a week and never show anyone. He said, "just do it to make your soul grow."

Music has no upper limit on the technical competence it can require. One composer, confronted by his violinist who admitted, with embarrassment, that they were unable to play what he had written, said, "I know. It is impossible that anyone could play what I have written. What that section of the score is intended to elicit is the sound of someone attempting, sincerely, to play it." This is not a class that requires or aims, primarily, to cultivate technical competence. As your facilitator, I'll simply ensure that you have what's necessary to get out the front door and begin your adventure, and I'll stick by you long enough to ensure that adventure finds you and you get home safely that night, and that have what you need to go out again.
Target Age: All Ages
Required Materials: A computer running Audacity or Garageband. Musical instruments are not required but, as might be imagined, useful.
Transformative Activism: What Is It?
with Emma S (Sun 11–12:30 in the Screened Porch)
In this workshop, people will learn how to show up in their unique gifts to social change making or support others who are doing so in this time.
Description: Ever feel like protests just don't work for you? Don't understand the use of rallies and marches? OR have you ever attended these events and left wondering how you could possibly ever make a difference in a world so large and so complex? This workshop will spend a some time on social change theory to ground in some shared langauge and then create an opportunity to open up into facilitated discussion and other ways of expressing oneself (think body movements, song, and journaling). If conditions feel right, there will be room for our own tenderness, reflection, and deep questions.
Target Age: All Ages
Required Materials: Pen and paper.
Neighborhood Weed Walk
with Hannah P (Sun 1–2 at the Picnic Tables)
In this workshop, people will learn how to identify neighborhood weeds.
Description: Have you ever wondered what the scrubby little plant growing through a crack in the sidewalk is? Now's your chance to find out. Grab your headphones, a notebook, and some chalk, and follow me out into our (own respective) neighborhood(s)! As we go, everyone will have the opportunity to share close-ups of weeds they're curious about, and I will help to identify them. If you are feeling bold, join me in being a rogue botanist and label your plants with chalk for all your neighbors to see.

I do realize this will only work for those who have smartphones, data, and cell towers in their area, so for anyone who wants to take pictures of neighborhood plants ahead of time, I'll make sure to include a time to look at those as well. This can be a two-stage workshop, or we can simply adjust as needed.
Target Age: All Ages
Required Materials: Smartphone, headphones, notebook, chalk.
Calm During Crisis, Peace During Panic
with Julie Ann O (Sun 1–2 in Christopher's Haven)
In this workshop, people will learn how to use self-energy regulation techniques including meditation, breathing, visualization, and mindfulness practices.
Description: Participants will learn self-energy regulation techniques including meditation, breathing, visualization, and mindfulness practices that help you get calm and remain calm during difficult times.

Of note: No experience is necessary. Folks can just bring their bodies. Workshop participants are seated for the majority of the time. Not appropriate for people who have recently (6 months or less) experienced trauma or significant loss (death of a loved one, etc.) This workshop is also not a substitute for therapy or medical advice.
Target Age: Adults
Required Materials: None
Dance the Git Up
with Dana D-Y (Sun 1–2 in the Barn)
In this workshop, people will learn how to dance the Git Up (country hip-hop line dance).
Description: The Git Up is a country hip-hop song written in 2019 by Blanco Brown, with an accompanying line dance (see video here). Line dances are great because you can dance them equally well alone in your living room or with your housemates or six feet apart at a physically distanced picnic. The Git Up is silly and fun and extremely catchy; it's got basic steps you can follow or you can improvise to your heart's content. We'll learn the basic dance together, piece by piece. By the end of the workshop I hope you'll have some new dance moves, a new song stuck in your head, and a smile on your face.
Target Age: All Ages
Required Materials: None
One-On-One Workshops
How To Sewing Machine
with Eliza W
In this workshop, people will learn how to get familiar with their sewing machine and how it works.
Description: Do you own a sewing machine, but not know how to use it, or even what the parts are? Do you want someone to talk you through the basics of what it does and how it does it?

Do you have sewing machine issues you'd like to troubleshoot with someone? (hint: have you tried rethreading it?)

Good news! I'm here to help you get a little more comfortable with your machine in one-on-one sessions.

Note: you're gonna need to have some stuff for this, so be sure to reach out to me with any questions with enough lead time to place an order or get to the store if you don't have the basics already.
Target Age: Kids 10+ years old (plus anyone older if they feel like it)
Required Materials: I am available ahead of time to discuss any items on the list with you!
Your machine's manual (if at all possible – usually you can find this online if you don't already have it. If not, look for a manual for a similar model/machine of the same vintage by the same manufacturer)
Sewing machine bobbins that fit your machine.
Fabric scraps – preferably cotton.
Maintenance tools (optional):

A small brush or paintbrush for cleaning your machine.

Sewing machine oil, if you have it.

Screwdrivers for various screws on your machine.
–end of workshop descriptions for 2020–
Last years event and typical Skill Swap overview: Programming at Skill Swap begins on Friday evening (the 7th) and closes Sunday evening (the 9th), with an option to stay at camp through Monday morning (the 10th).
Where: Camp Wilmot, 5 Whites Pond Road, Wilmot, NH 03287.
Visit our Getting There page for a map and directions.
If you want to carpool or need to be picked up from public transit, please indicate so when you register. If your attendance is dependent on getting a ride, contact us at epicskillswap@gmail.com and we'll let you know if anyone is coming from your area. If you're looking for a ride or can give a ride, you can sign up and connect with other ESS attendees on our carpooling rideboards. We'll share the rideboard link with registered attendees.
Schedule: Our workshop schedule is built by our participants! Check out the Workshop Submission Process for full details. If you want a sense of what's been offered in the past, check out our Past Swaps pages in the menu above.
Volunteering: In order to make a small weekend village like this run, we ask that everyone pitch in on a volunteer crew of their choice, approximately 1 to 4 hours of work over the course of the weekend. When you register, you will have an opportunity to indicate which crew you would like to be on. We'll do our best to match you to your preferred crew, and you'll sign up for your volunteer shifts when you check in.
The Facilities: Camp Wilmot is located in beautiful rural New Hampshire. The main lodge has a dining hall, commercial kitchen, and cozy back porch. We also have access to several other enclosed buildings for workshops and gatherings, many with screened porches and/or fireplaces. Camp Wilmot has a lovely pond for swimming and canoeing. The main buildings are heated and insulated, accessible by ramp as well as staircase. If you have questions about accommodations, or you have questions about mobility and accessibility, please let us know and we'd love to work with you! Email us at epicskillswap@gmail.com.
Lodging: Camp Wilmot offers cabins that sleep 10 for those who prefer a roof over their heads, or open fields for those who prefer a tent and stars. We also have a limited number of more private, heated, indoor sleeping spaces for families or folks whose bodies need a heated space with a thicker mattress (email us at epicskillswap@gmail.com if you have housing needs). There are designated "quiet areas" for campers and cabin-ers alike who are protective of their shut-eye. Cabins are uninsulated and are mostly reached by earthen paths. They have bathrooms with toilet, sink, and shower stall. We have overflow cabin space in case it POURS rain and tenting becomes no fun!
Food: Please bring a dish Friday night for a potluck dinner. Our talented head chef, Laura Keeler, will provide delicious, mostly vegetarian meals on Saturday and Sunday, and breakfast on Monday. Venison donated by one of our community members will supplement the vegetarian options. Bring a snack for the potluck snack table!
The meals at Epic Skill Swap are designed to accommodate folks with dietary restrictions, including gluten-free, lactose-free, and grain-free options. However, if you have very specific dietary needs, you may choose to opt out of group meals and bring your own food, and you can plan on adjusting your monetary contribution to the weekend accordingly. A small refrigerator will be reserved for those who fall into this category. Please note that group meal prep will take priority in the hours directly before meals. If you are preparing your own food, you may want to consider bringing a camp stove.
The Fine Print:
Dogs: There is a no-dogs policy in place (except for service animals).
WiFi: There is wireless internet at Camp Wilmot and the password will be available; however, please be conscious of helping us cultivate mindful interactions between people, and limit your web use to the spaces we've set aside for it.
Kids: We love kids! Kids are the future! They should teach and learn with the best of 'em! However, we are not set up to provide childcare. You are welcome to bring your children, but if you do, they remain solely your responsibility. If you are under 18, you must attend Epic Skill Swap with a parent or guardian. You do not need to register your baby and toddler, but we do ask that you register older kids who you expect will eat with the group. Our suggested sliding scale for kids is $25–$50, but we encourage you to pay what feels appropriate based on your child and your situation.
Alcohol: Alcohol is permitted at Epic Skill Swap, but please drink responsibly.
Drugs: Illegal drugs are absolutely not allowed at Epic Skill Swap. Please understand that failing to observe this puts the organizers in a very awkward position.
Legal Stuff: When you check in, you will be asked to sign a standard liability form. This basically indicates you understand what you're getting into and you won't hold the organizers or Camp Wilmot responsible. We will also have event insurance for the weekend.
Epic Skill Swap is a socially inclusive, non religiously-affiliated event open to people of all backgrounds, races, cultures, religions, ages, abilities, genders, and orientations.